Image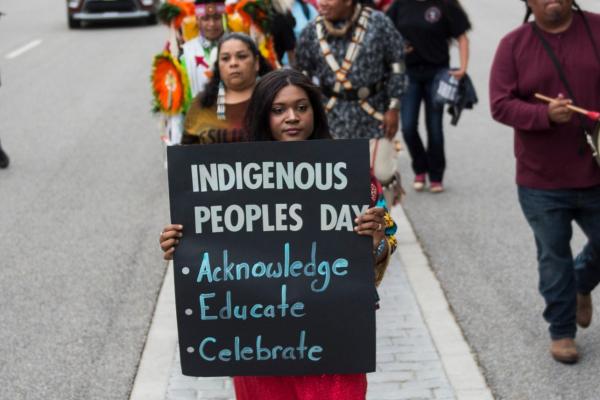 October 11, 2021
7:30PM - 9:00PM
Location
Alonso Family Room, Student Life Multicultural Center, Ohio Union
Date Range
Add to Calendar
2021-10-11 19:30:00
2021-10-11 21:00:00
Indigenous Peoples Day
Join NativeOSU as we recognize Indigenous Peoples Day on October 11th. This day represents resiliency, strength, and cultural empowerment. Our guest speaker, Indigo Gonzales, will lead us in a guided art workshop to explore what makes you unique, strong and powerful. Art supplies will be provided, just bring your curiosity and creativity with you. Indigo Gonzales is a Two-Spirit Afro-Indigenous artist, educator and OSU alum. Learn more about Indigo on their Instagram: https://www.instagram.com/indigotye/ This program is in collaboration with the OSU American Indian Studies program.   Link for event: https://mcc.osu.edu/events.aspx?y=2021&mo=10&day=11&e=76164&d=8&m=Event&v=Calendar&ep=0 Cost: Free
Alonso Family Room, Student Life Multicultural Center, Ohio Union
OSU ASC Drupal 8
ascwebservices@osu.edu
America/New_York
public
Date Range
Add to Calendar
2021-10-11 19:30:00
2021-10-11 21:00:00
Indigenous Peoples Day
Join NativeOSU as we recognize Indigenous Peoples Day on October 11th. This day represents resiliency, strength, and cultural empowerment. Our guest speaker, Indigo Gonzales, will lead us in a guided art workshop to explore what makes you unique, strong and powerful. Art supplies will be provided, just bring your curiosity and creativity with you. Indigo Gonzales is a Two-Spirit Afro-Indigenous artist, educator and OSU alum. Learn more about Indigo on their Instagram: https://www.instagram.com/indigotye/ This program is in collaboration with the OSU American Indian Studies program.   Link for event: https://mcc.osu.edu/events.aspx?y=2021&mo=10&day=11&e=76164&d=8&m=Event&v=Calendar&ep=0 Cost: Free
Alonso Family Room, Student Life Multicultural Center, Ohio Union
American Indian Studies
ais@osu.edu
America/New_York
public
Description
Join NativeOSU as we recognize Indigenous Peoples Day on October 11th. This day represents resiliency, strength, and cultural empowerment. Our guest speaker, Indigo Gonzales, will lead us in a guided art workshop to explore what makes you unique, strong and powerful. Art supplies will be provided, just bring your curiosity and creativity with you.
Indigo Gonzales is a Two-Spirit Afro-Indigenous artist, educator and OSU alum. Learn more about Indigo on their Instagram: https://www.instagram.com/indigotye/
This program is in collaboration with the OSU American Indian Studies program.
Link for event: https://mcc.osu.edu/events.aspx?y=2021&mo=10&day=11&e=76164&d=8&m=Event&v=Calendar&ep=0
Cost: Free
---