September 15, 2022
CES Autumn 2022 Student Travel and Research Grants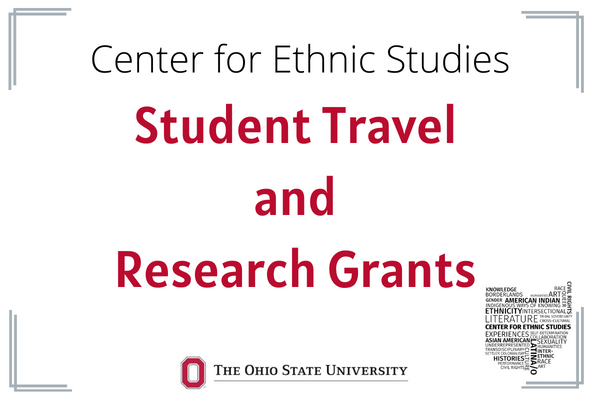 CES Autumn 2022 Student Travel and Research Grants
The Center for Ethnic Studies is pleased to announce its travel and research grants program for the 2022-2023 academic year!
The CES awards several small grants every year in support of students' research activities, conference participation, and other academically-oriented travel needs. Travel plans are not necessary to apply for these grants. 
Eligibility Requirements
All undergraduate or graduate students currently enrolled in coursework for the Autumn 2022 term may apply. Proposals should demonstrate a substantial connection to one or more of the fields represented within the Center's academic programs: American Indian Studies, Asian American Studies, and/or Latina/o Studies, with preference given to those enrolled in our minor and GIS Programs.
Complete applications will consist of the following:
A completed online application form at Center for Ethnic Studies Student Travel and Research Grant Application Form | Center for Ethnic Studies (osu.edu).
Other documents, uploaded and attached to the electronic application form, including:

a project description of 1200-1500 words (with accompanying title) including brief statements on how the grant would aid its development, how much work has already been done on the project and, if applicable, financial need caused by the impacts of the pandemic (**please note we are no longer requiring an accompanying bibliography**)
verification of IRB approval for the research project (if applicable)
résumé or c.v.

**Please note that we are also no longer requiring a letter of support from the applicant's adviser or from a faculty member with whom the applicant has worked closely on the conference paper or research project, but if you still choose to request one, please have faculty address the letter to Nick Spitulski (spitulski.1@osu.edu), Center for Ethnic Studies, 455 Hagerty Hall, 1775 College Road.
Awards are competitive (i.e., reviewed by a selection committee) and will be decided on the basis of merit and the project's significance to the student's academic and/or professional development and the potential for the student's work to contribute to greater understanding of the field in which they are working. Please also note that previous award recipients are permitted to reapply for these grants, but that, all else equal, first-time applicants will receive priority consideration.
Recipients shall submit a 500-word essay on the state of their research or some other aspect of the way they spent the funding that can be used as a news item on the CES website or in other CES materials, and a photo of either the recipient or some aspect of their project.
**The deadline for Autumn term grant proposals will be Thursday, November 10, 11:59 p.m. ET.*
---